Data Flares
a software solution for simulated consumer behavior on the internet, achieving Privacy through Confusion
Giving the people back the power over their own data by hiding it in simulation
Have you ever clicked on "accept" on a privacy question ? Well, congratulations - You are being tracked ! But whether we like it or not, we are all constantly tracked - not just by cookies alone. Almost everything you do online, ranging from search history, mouse movements, typing behavior, meta data to Facebook likes and more can be and is being tracked.

While surfing online, Sarah and Paul here are no exceptions to this. Let's look at their situations and how Data Flares makes a difference !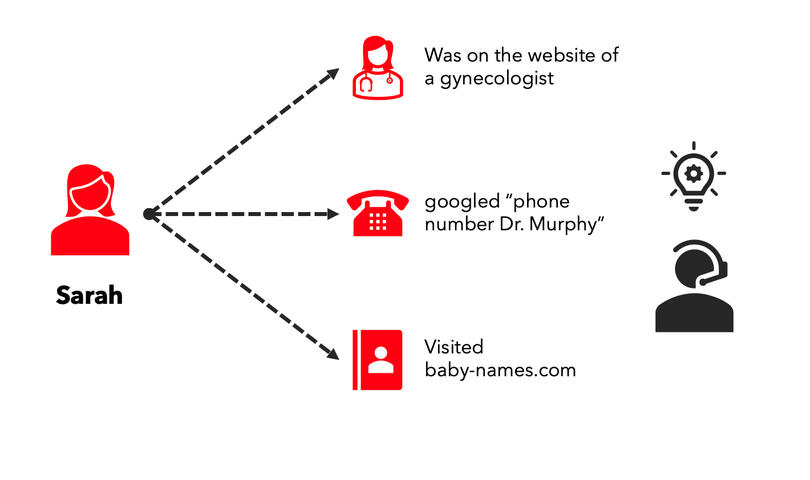 What happened to Sarah ?
Sarah is surfing on the Internet and is being tracked. We know she was on a gynecologist's website and googled the phone number of a "Dr. Murphy". 15 Minutes later, she visited a domain called baby-names.com

Knowing nothing but her surfing history: take a wild guess - what happened?

Sarah got pregnant. If we can make this conclusion from such little information, imagine what private details data companies know about you, having almost infinite time and data sets to learn from.

Then, the data might be saved, analyzed and used for a wide variety of purposes. In the best case it will only be used for targeted marketing. But it can also be used for behavior analysis, manipulation or even political influence. On top of this, your data could get publicly exposed in a data breach or sold to third parties. Money is made with your personal information.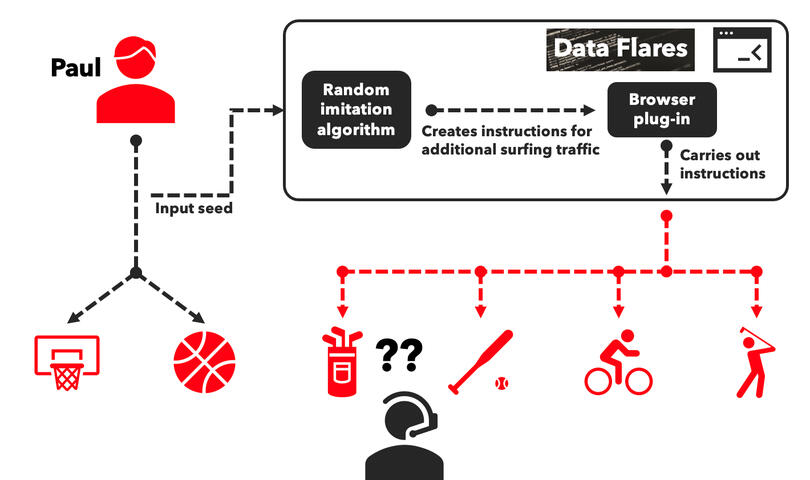 What is Paul's favorite sport ?
Well, what can we do about all this? There are many existing approaches, most of them try to disable tracking. We thought instead: what if we flood the analysts with additional data?

Our solution: a browser plug-in that simulates consumer behavior in order to distract behavior analysis – Data Flares. We want to give the people back the power over their own data by hiding it in simulation – an approach that hasn't been seen before.

Let's look at Paul's example. Paul's favorite sport is basketball. But unlike Sarah, Paul is using Data Flares. While Paul is looking for basketball online, Data Flares is looking for baseball, golf and cycling. Now, what's Paul's favorite sport? From a data perspective, you can't tell anymore. The example might be oversimplified, but in a similar way, we want to make data tracking and behavior analysis ineffective.

With Data Flares, we don't care how good they track you; we simply create an impossible data base to work with.
Whether it's a very private thing like Sarah's pregnancy or a harmless fact like Paul`s favorite sport – your personal information is safe with us.
Data Privacy is a concern for everyone. Having something to hide is not a requirement. Or do you leave your door unlocked ?
GROW 2020 / 2021
It was a blast! GROW is the student founding contest by PionierGarage of KIT. We are honored to end up winning. Watch our 3 min. pitch from the final below!
"GROW, the student founding contest in Karlsruhe, is aimed at helping student entrepreneurs to get the right experience, knowledge and network to found their own company. There are no requirements; some teams start with nothing but an idea and others are already working on their prototype. We value progress; it doesn't matter where you start, as long as you GROW. At the end you can get the chance to pitch your progress in front of 500+ people including an experienced jury and may win one of the prizes from our prize pool worth over 8.000 €."

For more see https://grow.pioniergarage.de
"We value your Privacy" - biggest Lie on the Internet
The Team
We are Dan and Phil and we are the team behind Data Flares. Dan is allergic to peanuts and Phil loves bungee jumping. Well, this is both not true but it could definitely be, and this is exactly the idea of Data Flares - privacy through confusion.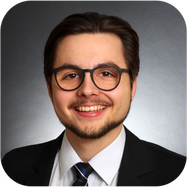 Dan's affinity for megatrends theory provided the idea base for the co-creation of Data Flares. He has a background of working for a market leading software company and knows the daily struggles of data privacy first-hand.
Any questions or ideas ? Say Hi !
We appreciate any idea, info or question and are happy to answer and reply. Feel free to reach out to us via LinkedIn, E-Mail or the contact formula below.
FAQ
Is data privacy a relevant problem?
48% of internet users expect data abuse - 30% have already been victims.
87 million Facebook profiles were analyzed at Cambridge Analytica scandal in 2018. 230 million people exposed at Marketing firm Exactis in 2018. Short answer: yes, it is.


So why not just disable tracking in the settings?
Well you can - but first, some websites become unaccesable
and second - how are you sure you are not tracked anyway? Do you trust the internet companies enough with that?


How about minimizing tracking?
This is the common approach. But blocking tracking is difficult. The software that blocks is always in competition with the one that tracks.


So flooding with simulated data is better?
We think so! By this, we don't care how good they track or analyse.
We simply give them an impossible data base to work with. This way, they might come to conclusions about you, but they will be wrong.


Why should I trust you in this?
You shouldn't! We encourage you to educate yourself on the topic and come back if you want to. We will be here!
Impressum
Angaben gemäß § 5 TMG

Data Flares
Großsachsener Straße 18
68542 Heddesheim

Vertreten durch:
Philipp Menge, Dan Seiler


Kontakt

E-Mail: [email protected]


Verbraucherstreitbeilegung/Universalschlichtungsstelle

Wir sind nicht bereit oder verpflichtet, an Streitbeilegungsverfahren vor einer Verbraucherschlichtungsstelle teilzunehmen.


Haftung für Inhalte

Als Diensteanbieter sind wir gemäß § 7 Abs.1 TMG für eigene Inhalte auf diesen Seiten nach den allgemeinen Gesetzen verantwortlich. Nach §§ 8 bis 10 TMG sind wir als Diensteanbieter jedoch nicht verpflichtet, übermittelte oder gespeicherte fremde Informationen zu überwachen oder nach Umständen zu forschen, die auf eine rechtswidrige Tätigkeit hinweisen.
Verpflichtungen zur Entfernung oder Sperrung der Nutzung von Informationen nach den allgemeinen Gesetzen bleiben hiervon unberührt. Eine diesbezügliche Haftung ist jedoch erst ab dem Zeitpunkt der Kenntnis einer konkreten Rechtsverletzung möglich. Bei Bekanntwerden von entsprechenden Rechtsverletzungen werden wir diese Inhalte umgehend entfernen.


Haftung für Links

Unser Angebot enthält Links zu externen Websites Dritter, auf deren Inhalte wir keinen Einfluss haben. Deshalb können wir für diese fremden Inhalte auch keine Gewähr übernehmen. Für die Inhalte der verlinkten Seiten ist stets der jeweilige Anbieter oder Betreiber der Seiten verantwortlich. Die verlinkten Seiten wurden zum Zeitpunkt der Verlinkung auf mögliche Rechtsverstöße überprüft. Rechtswidrige Inhalte waren zum Zeitpunkt der Verlinkung nicht erkennbar.
Eine permanente inhaltliche Kontrolle der verlinkten Seiten ist jedoch ohne konkrete Anhaltspunkte einer Rechtsverletzung nicht zumutbar. Bei Bekanntwerden von Rechtsverletzungen werden wir derartige Links umgehend entfernen.


Urheberrecht

Die durch die Seitenbetreiber erstellten Inhalte und Werke auf diesen Seiten unterliegen dem deutschen Urheberrecht. Die Vervielfältigung, Bearbeitung, Verbreitung und jede Art der Verwertung außerhalb der Grenzen des Urheberrechtes bedürfen der schriftlichen Zustimmung des jeweiligen Autors bzw. Erstellers. Downloads und Kopien dieser Seite sind nur für den privaten, nicht kommerziellen Gebrauch gestattet.
Soweit die Inhalte auf dieser Seite nicht vom Betreiber erstellt wurden, werden die Urheberrechte Dritter beachtet. Insbesondere werden Inhalte Dritter als solche gekennzeichnet. Sollten Sie trotzdem auf eine Urheberrechtsverletzung aufmerksam werden, bitten wir um einen entsprechenden Hinweis. Bei Bekanntwerden von Rechtsverletzungen werden wir derartige Inhalte umgehend entfernen.


Quelle

eRecht24